Bat 2"x2" Handmade Ceramic Art Tile
The only mammal which can truly fly without help from technology is the bat. There are over 1200 different classifications of bats, and they comprise nearly a fourth of the known species of mammals on the planet. Though many people are afraid of bats, they are actually very helpful to humans. Most species of bats eat insects, reducing the use of chemical pesticides. Some types of bats help pollinate flowers and distribute fruit seeds. Bats are often associated black magic, vampires and other dark forces, but there is another side to their symbolism. In Chinese lore, bats represent happiness and longevity; in other cultures they are said to bring luck. Among the Apache, Creek, and Cherokee tribes, bats have represented the embodiment of the trickster spirit. Throughout human history, people have paid tribute to bats through art and craft, and it is in that spirit that I made this handmade tile.
12 non-toxic, lead free glazes to choose from
For permanent installation in a variety of settings
Has slot on back for easy wall hanging, unless otherwise noted
Traditional relief style art tile, original modern design
High fired stoneware is sturdy enough for many applications, indoors and out
Approx. 1/2" thick at edge, unless otherwise noted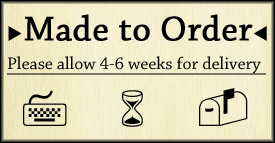 Click images to enlarge.
Other Handmade Art Tile:
Price:

$9.00
List Price:

$9.00
Price:

$9.00
List Price:

$9.00