Dog (facing left) 2"x2" Handmade Ceramic Art Tile
Could there be a more faithful companion than a dog? Smart, loyal, obedient, forgiving, accepting, and always happy to see you. Quite possibly the first domesticated animal, the dog is the most widely kept animal in history. This design is also available facing the opposite direction in the same 2"x2" size.
Glaze is carefully brushed on every tile's top and sides
Appropriate for permanent installation
Makes a great wall hanging
Original design, sculpted in relief and reproduced by the artist, by hand
High fired stoneware can last thousands of years, under the right conditions
Fired once to 1800F, then glazed and fired to 2200F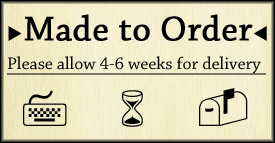 Click images to enlarge.
Other Handmade Art Tile:
Price:

$18.00
List Price:

$18.00
Price:

$9.00
List Price:

$9.00