Fish 2"x2" Handmade Ceramic Art Tile
Fish live in most bodies of water throughout the world. Important to humans since ancient times, fish have have been used to represent a variety of things in different traditions. In Christianity, fish are a symbol of faith which traces back to the story of "the fishes and loaves" or "the feeding of the multitude," one of the miracles of Jesus in the Gospels. Ancient Celts believed fish derived sacred knowledge from Segais, the well of knowledge. Fish make up one of the sacred symbols of the Buddah, and represent joy and independence to some Buddhists. Pagan traditions embrace fish as a fertility symbol and as an expression of feminine power. Art depicting pairs of fish is a popular wedding gift in Chinese culture where fish denote fidelity, unity and prosperity. Other fish symbolism includes transformation, resilience, creation, and flow of life.
Choose from 12 unique, lead-free glazes
Appropriate for permanent installation
Can be hung on the wall- no framing required
Raised design
Made with natural materials
Approx. 1/2" thick at edge, unless otherwise noted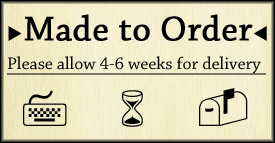 Click images to enlarge.
This tile runs 1/4" small. The true dimensions are 1.75"x1.75".
Other Handmade Art Tile:
Price:

$12.00
List Price:

$12.00
Price:

$9.00
List Price:

$9.00